"Arsenal`s Greatest Premier League Games" – a new DVD of, well, the greatest Arsenal matches of the Premier League era – is due out in a couple of weeks, and we`ve been lucky enough to get our hands on a copy, pre-release, to review for our loyal members here at Vital Arsenal.

So what better day to sit down with a huge pot of coffee and review this bad boy than this lovely Sunday afternoon on the back of a moral boosting 5-2 victory over Spurs?

So let`s get to it.




The packaging for this DVD is seriously sexy, a chunky box with lovely artwork featuring some of the greatest players in Arsenal history. Inside you`ll find the three discs all decorated with images of glory past. Behind the discs you can see the dates and score-lines of each match on the DVD. I spent far too much time trying to recollect the scorers in these games when I could have been watching the DVD itself.

I felt rather smug that I was able to recall a vast majority of the goal scorers, thus proving that my long term memory is much more effective than my short term memory. Something that angers my wife greatly as we often have to take newspaper to the bathroom as we`ve run out of loo roll or have water on our Sugar Puffs after I`ve used all the milk in my coffee thanks to my inability to remember to do even the simplest of tasks such as purchasing basic groceries from the supermarket ?. But yeah, that`s ok because I can remember that Kevin Campbell scored a hat-trick against Ipswich back in 1993.

The opening sequence of this feature gives you a slight glimpse of what is to come. A whole plethora of Arsenal greats (and Adebayor) smashing home cracking goals set to a backdrop of dramatic music. It sets the tone perfectly.

The matches on the DVD are set out in chronological order rather than in terms of awesomeness (so you`re going to have to skip to disc 3 or wait for 5 hours before viewing the masterful 5-2 whooping of Spurs last season). We start at Anfield on 23rd August 1992, though before we get into the action a graphic reminds us of our league position, our average points and goals per game for that particular season, longest unbeaten run (it makes good viewing for the 2003/04 season) and the top scorer for the season. It`s a nice touch.

We start out in the 1992/93 season which is possibly one of my favourite eras as an Arsenal supporter. The likes of Ian Wright, Magic Merse, Ray Parlour, Anders Limpar, David Seaman, Kevin Campbell Alan Smith, Lee Dixon etc etc, donning that gruesome away shirt of the early 90s. We weren`t the best team back then but as a bloke in my mid teens it was at this time I had really begun getting passionate about the mighty Gunners.

Considering there are 60 matches crammed on to these DVDs you`d be forgiven for thinking each game would just be a replay of the goals in the featured match, however the highlights are fairly extensive, they don`t show every single incident in the game though they probably go into more detail than your average Match of the Day production. However some matches are more extensive than others.

Considering the early games on the DVD are from almost 20 years ago they are obviously pre-HD and widescreen, so the footage has those big ol` black lines down the side of the screen (you even get that massive flashing "R" in the corner of the screen on replays). It`s a 1st world problem but one which is easily disregarded once you become immersed in the Arsenaly goodness. However it`s not until the 2001/02 campaign that we finally see the action presented in widescreen.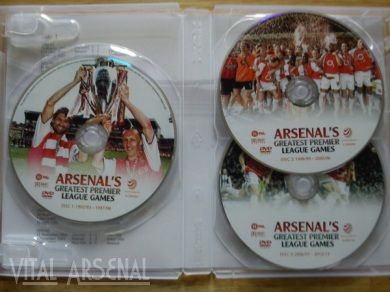 By the time we reach the end of the first disc we begin to see the emergence of Arsene Wenger`s Arsenal and legends of the famous cannon more familiar to those Gooners under the age of 25. Players such as Bergkamp, Vieira, Overmars taking to the field to provide us with some special memories. We`ve also begun witnessing such memorable moments at that glorious 3-1 victory over Tottenham at a rain drenched Highbury back in November of `96 with a penalty from Ian Wright Wright Wright and two special strikes from Tony Adams and Dennis Bergkamp.

Incidentally, wins over Tottenham make up exactly 15% of the featured matches on this DVD. I feel that Arsenal have faltered where Spurs have prospered here, had we released a DVD for each individual match in which we`d beaten Spurs the club could lower the match ticket prices for the foreseeable future.

Disc one is somewhat of a progression of the Gunners during the 90s. From a promising side with plenty of potential to do great things from the inception of the Premier League to what is often described as one of the more mediocre times in our history in the middle part of the decade, only for a certain Frenchman to lift us from obscurity to become the Champions of England by the end of the 90s. A truly meteoric rise.

If the discs of this production were a sandwich then disc two would be the rather juicy steak between two slices of mediocrity. That`s not to say the quality of the games shown on this feature are bad, far from it, there are some simply amazing games all the way through, but the period from which these games were plucked are two indifferent periods in the club`s history on either side of a quite stunning era for the club.

The matches on the second disc quite simply come from the single greatest period in the living memory of any Arsenal supporter. There might be one or two Gooners out there who remember the massive success experienced in the 30s, but I`d hazard a guess they are few and far between.

Watching players such as Henry, Ljungberg, Pires and Bergkamp from the 2001/02 league winning campaign made me pine for the days when we were feared far and wide. Devastating, deadly and clinical. Hell, the footage almost had me missing the unmistakable voice of Andy Gray. Almost.

The second disc, rather appropriately, ends with that famous 4-2 victory over Wigan in the last ever game at Highbury in which we clinched an unlikely Champions League spot for that season. Meaning we stuck it to the Tottenham one more time without even playing them. It was disappointing however that not only does the DVD not feature any of the final day shenanigans, but the editing of the footage interrupts the commentator mid-sentence leaving what was sure to be a momentous piece of commentary unfinished.

Much like the last few years in N5, the final disc in this three disc set sees the Gunners scrambling for something special. Whilst there are some memorable moments to be had from this last segment (such as the 5-2 win over the unwashed) it does feel somewhat flat compared to the previous set of matches. That`s partly because the legends of the Theirry Henry/Dennis Bergkamp era set the bar so high whatever follows is going to seem a little underwhelming, but also because these games are a reminder that we`re simply not as good as we once were.

The goals on offer are still are joy to behold, it just doesn`t give you that same sense of nostalgia are the rest of the set.

"Arsenal`s Greatest Premier League Games" does have it`s downsides. I think this product could have benefited greatly by dropping a few of the games which I wouldn`t say have really moulded Arsenal in the modern era and instead opting to drop in some narration and/or interviews. There are some legendary times from Arsenal`s history on this DVD and a few words from those involved could have gone someway to spicing it up a little. The dramatic music that I mentioned at the start of this review becomes a little repetitive after hearing it for the 60th time (though I will admit to still tapping my foot after hearing it for the 40th time).

One of the most bizarre choices in this whole ensemble was to omit the phenomenal commentary of Martin Tyler on the 5-3 win over Middlesboro back on the 49 game unbeaten run, opting instead for some geezer whose name I can`t remember and Andy Townsend, but I guess I`m being a little nit-picky there.

All in all this is a fine piece of memorabilia and has made for one of the more enjoyable Sunday afternoons I`ve had in a long while. It offers a chance to relive some of the most amazing times in modern day Arsenal history and reminds us how great it can be not only to be a Gooner, but to be a fan of football in general.

"Arsenal`s Greatest Premier League Games" is due to be released on 26th November and is available from the Official Club Shop or Amazon.co.uk.

Alternatively you could enter our competition here at Vital Arsenal as the boys and girls at ILC Media have given us a number of copies to give away alongside "Arsenal 70s – The Best of a Decade", so keep an eye on Vital Arsenal for details.